If you use bandcamp, chances are you've seen the username "sim0n".
If you're a musician, especially if you're in vaporwave-related circles, chances are he's bought your album. If you're a label owner, probably at least one of your albums is on his bandcamp collection, but most likely, your entire catalog is in there.
For a long time, I've seen sim0n's avatar pop up in almost every single album I encounter, and I know I'm not the only one. Most of my label-manager and small artist friends are grateful for the couple of bucks he'll throw your way almost as soon as you publish anything, and we've all had a ton of questions about who this man is, and how he has managed to make his beyond-impressive bandcamp collection a reality. At the moment of writing this, he has 18766 albums on his collection, 745 on his wishlist, 351 followers and 2310 followed accounts.
So, who is sim0n?
i've managed to get in contact with the elusive man behind the sepia astronaut profile picture, and after a small email exchange in which he recommended me some music based on what my own projects sound like, he agreed to an interview. I have a lot of questions, and i know a lot of readers want to know a thing or two as well.


Pedro: Hello! First and foremost, I'd like to ask you some basic questions. The very basics really. Name, age, where you're from and what your occupation is.

Simon: You already know my name. I'm 43 years old and i'm from California. I'm in between jobs at the moment, but i'm a part time illustrator and full time dad.

Pedro: When did you start using bandcamp? your collection is huge and it looks like you've certainly put years into making it what it is today

Simon: I started using Bandcamp around 2009 or 2010, I can't really remember exactly. It didn't grow very much until the last 5 years or so. That is when I discovered labels and artists selling full discographies.

Pedro: I've noticed, and most people who know you have also noticed, that you're drawn mostly to vaporwave. What about vaporwave interests you? Why do you so vastly prefer this genre over the many others that bandcamp is full of?

Simon: Vaporwave and all its subgenres are some of the most explorative forms of electronic music in the last decade. I grew up in the 80s and 90s so it makes a lot of sense that I would enjoy its nostalgia. In the 90s, I really got into EDM, raves, and DJing. My group of friends and I like throwing parties anywhere we could fit speakers, turntables, and blacklights.

Pedro: Oh, that sounds like a great time, small impromptu parties with great music... Now, this is one of the main questions I've been dying to ask ever since I stumbled upon your account. Why do you buy so much music?!

Simon: Everyone has their vices. Mine is music. I guess I'm a collector of sorts.

Pedro: It can definitely be a vice, yeah... With a collection this big, I just have to ask, have you listened to all of the albums you've purchased?

Simon: No, I have not listened to all of the albums in my collection. There is a massive amount that came from buying discographies when I initially wanted a few albums. A lot of the unlistened albums have been skimmed through when I want to find something new to listen to though. Also, this brings up my issue with bandcamp and their app. The bigger your collection the more problems you face using the app. I'm not sure if it is limited to me, but I'm not even able to use the search function without the app closing down. Most times now I'll try to search my emails to find albums I'm looking for, especially ones that I haven't downloaded yet. Not only that but in the last year bandcamp app tries to sell me albums I've already purchased. My icon shows up in the purchased section, but it doesn't show in my collection on the app. I went round and round with their customer service over this issue and the only thing they said was that I still own the music and that it shows up on the desktop site for me. So yeah, the app is useless and it makes navigating my collection impossible.

Pedro: Oh gosh, sorry to hear... The app was probably not designed for such avid collectors like you, but it still sucks, honestly. Another main question is one that I feel most people have when they encounter your account. How much money do you think you've spent on bandcamp? a rough estimate is more than okay

Simon: Oh no! How dare you make me face my reality! Last I checked, I have over 7,000 purchases on Bandcamp. I refuse to do the math.

Pedro: Haha no worries. That's such a huge amount of purchases... If you feel comfortable answering this question, how can you afford such a lifestyle?

Simon: This is a lifestyle?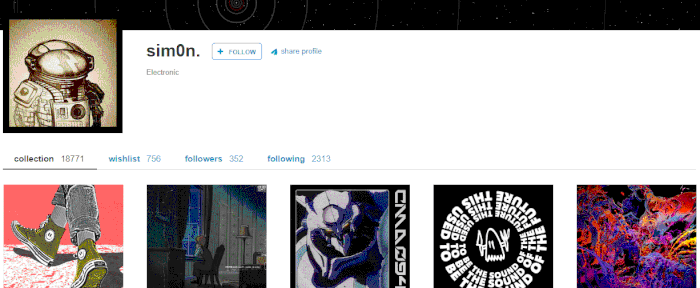 Pedro:
I'd say so! not everyone does this at such a large scale! but anyway... Digital collecting is much easier than physical, since it's much more immediate and you don't have to deal with the hassles of the physical realm. Do you have a physical collection of music as well? How big is it?
Simon:
Yes. I've been collecting since the late 80s. My physical collection contains a multitude of cassette tapes, cds, and vinyl. I have terabytes of digital music that isn't on bandcamp as well.
Pedro:
I definitely had a feeling your affinity for making huge collections would be reflected on your physicals, haha. For someone who owns this much music, this question is probably loaded and way too oversimplified, but I'd regret not asking: What's your favorite album?
Simon:
I can't tell you this. Seriously, I have no idea. What I can tell you is that it changes all the time. Three years ago my mom died of cancer within 48 hours of finding out. She was young and in overall good health. 8 months later my sister took her own life as well. The one album that resonated with me more than anything during that time was Hypnagogia by Dan Mason.
Pedro:
Gosh, really sorry to hear that... But at least you had your music to ease the pain. That's the power of music. How about your favorite artist?
Simon:
I have some favorites. Here's a random list: BAKGROUND, woob, Infinity Frequencies, Tim Hecker, Funki Porcini, FSOL, Lee Gamble, Demdike Stare, J. Albert, Wild Nothing, Of Montreal, Skinny Puppy, The Cure, Cocteau Twins, Bauhaus, Dan Mason, Frankie Rose, HKE, Beach Fossils, Black Marble, 18 Carat Affair, DJ Food, Sangam, Ross from Friends, Ariel Pink, Boards of Canada, Thugwidow, Mogwai, Oneohtrix Point Never, Curve, Auscultation, Kagami Smile, Digital Autist, Appleblim, Shakleton, Andy Stott, John Maus, Telepath, cLOUDDEAD, ODD NOSDAM, DOSE ONE, WHY?, My Bloody Valentine, Smashing Pumpkins, The Orb, Slowdive, Interpol, Cut City, Death Cab for Cutie, Serena Maneesh, Veil Veil Vanish, Saul Williams, DJ Shadow, Skalpel, Teebs, Cinematic Orchestra, Lee Bannon, Fog, Hype Williams, Blackfilm, The Caretaker, Caural, Freesha, Cialyn, Clams casino, Crystal Castles, Your best friend Jippy, PRGMAT, Axian, Bersarin Quartet, Cigarettes after Sex, Com Truise, The Daysleepers, Grandaddy, The Horrors, Sneaker Pimps, IAMX, Konx-om-pax, Kuedo, Lake Haze, M83, Millie & Andrea, Route 8, Oobe, Prequel Tapes, Pye Corner Audio, The Radio Dept., Readymade, Skee Mask, Supreme Cuts, Washed Out, The Microgram, CMD094, Portishead, Autolux, and Lindsheaven Virtual Plaza / Mount Shrine. I'll kick myself later for the others I haven't mentioned.
Pedro:
I had a feeling your list would be huge, hahaha. Any favorites when it comes to genres and subgenres?
Simon:
Post Punk, Post Rock, Shoegaze, Dream Pop, Jangle Pop, Trip Hop, Jungle, Slushwave , Dream Punk, Ambient, Broken Transmission, Computer Gaze, VHSwave, Lofi house, and anything Hauntological.
Pedro:
And how do you find all the music you purchase?
Simon:
Here is my discovery path to finding music starting with childhood till present day: My siblings, MTV, magazines, raves, crate Digging in Records stores, friends, shows and concerts, blogs, music websites, Google Play Music (RIP), Reddit, YouTube, Bandcamp
Pedro:
A lot of music consumers in bandcamp dabble in production as well. Are you a musician, or have you given that kind of world a shot at all?
Simon:
I used to DJ a little back in the 90s and early 2000s. I've always put a lot of work into making mix tapes for friends and family. Even if the music isn't mixed, it should flow and tell a story from the heart. Once in a while I have ideas for albums and songs, but I haven't put much time into making music. Most of my creativity goes into visual art when I do find the time to make something.
Pedro:
Makes sense! visual art seems to be your medium of choice. DJing can definitely be a fun way to interact with music as something other than just a consumer. Another question, and please be as vague or as explicit as you'd like with this one. Do you have any connections with the vaporwave community other than being a patron of the arts? Do you keep in contact with any big names in the game?
Simon:
Nope, once in a while artist send me messages thanking me for a purchase. It's a trip. But I see it differently, it is me that is truly grateful to be able to hear everyone's music. It very important to me.
Pedro:
It's a two-way street! Now, this is definitely more of an existential question, but I'd love to hear your take. Why do you buy so much music, with pirating being such a normalized option nowadays? I understand wanting to support small artists, but you take this to an extreme!
Simon:
I'm sure there are far bigger collections on Bandcamp than mine. When collecting is a hobby, and you don't buy the physicals like everyone else, it is a little easier to handle. I think everyone in the age of the internet has experienced the pirating of music. I don't think my opinion is valid as I am not the one making the music... But if it was, I would say that when you have the ability to give back to the people, things, and communities you love, do so.
Pedro:
Absolutely. As a creator myself, it's always nice when people who enjoy your work show you their support like that. Now this question is mostly out of my own curiosity, has anyone else ever tried to contact you regarding your bandcamp collection? any interesting stories?
Simon:
No, not really. Last time I was trying to work with customer service at bandcamp via email, the person made a remark that he thought my collection was extensive. Unfortunately, my problem was never solved nonetheless. Another time, someone on reddit put 2 and 2 together in a thread that I was the 'guy' from bandcamp. It was flattering I guess, but weird. He asked me a few questions about stuff similar to this kind and then we haven't spoke since. I think it is difficult for me as I've said, I haven't been into the social media thing for about 10 years now. I don't understand what the big deal is about the fact that I have a music addiction. Millions of people do. Lastly, I remember way back when on Last.fm that I used to get a lot of flack for how many times I've listened to Tim Hecker. I think it was in the 20k range or something. I used to have my desktop hooked up to my soundsystem and linked to Last.fm. I always listen to music when I sleep and it just so happens that back then I was obsessed with falling asleep to Tim Hecker's albums. You can rack up 20k in no time. It isn't a big deal, it just looks funny on Last.fm I guess.
Pedro:
Oh, Tim Hecker is definitely great music to sleep to. Soothing and textured. For what you've told me before, you've been social-media free for more than 10 years now, so this interview might be the best way for you to interact with the bandcamp community at large. Is there anything you'd like to say to the people who are reading this right now? keeping in mind that probably a lot of label owners, artists and groups are reading this right now.
Simon:
Send me free music! Hehehe... Joking... No, i'm not.
Not sure what to say. The last few years have been crazy. I'm always open to doing album covers for music I like. Other than that, I always had the idea of making mixes for bandcamp of music I currently like. Sort of a weekly or monthly thing. I have no idea how that would come into existence, but it's a cool idea and I think it would be something artists, labels, and customers/fans of bandcamp would enjoy. It's a pipe dream, I know, but you told me to say anything, so here it is.
Pedro:
Simon, thank you for agreeing to do this interview! It was a pleasure meeting you and talking with you.
Simon:
Thank you so much for exposing my addiction. Talking about it is the first step towards exceptance.
If you'd like, you can get in touch with Simon through email: sim0n.salas@hotmail.com